DECORHIT RENOVATOR
silicone-based paint for facades with microfiber — matt
Description
is used for the final surface treatment of plasters, dry masonry, concrete, plasterboard. Paint is ideal for renovation of older insulated facades. It is possible to use the paint also in the interior, especially for parts of walls exposed to risk of shortterm contact with water or increased wear off. The final coating is preventing buildings from weather, abrasion, molds, mushrooms and algae. It is characterised by very good adhesion to alkaline surfaces and wear- off resistance . The color includes special microfiber, which bridges microcracks in damaged plasters. When it is used on thermally insulated facades it preserves the original structure of the plaster. It is not applicable by spraying or airless method.
Thinner: water
Informative coverage rate: 6 – 8 m²/l
Drying: touch dry: cca 45 min, repaint aprox. 2 – 4 h
Mixing with mixing system Decormix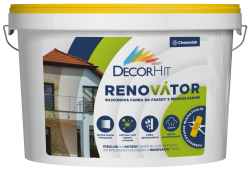 Stores
Calculate the amount
exterior

interior
walls

brush
roller
for renovation of old insulated facades
as finishing of plaster, dry masonry, concrete, pore concrete, gypsum plaster
resistant to weathering and abrasion
contains microfibre that bridges microcracks in damaged plaster
repels molds, fungi, and algae
0,8 l
4,5 l                                                                                                                                                                                                                                                  10 l
Error: The color code you entered is not in the RAL / STN converter, reset the form and enter the number
Chyba: Zadajte 4-miestny kód farby RAL/STN.