STONE CARPET VARNISH U 1000
Polyurethane 2 –component varnish for stone carpet — glossy
Description
is the finishing top layer for the strengthening, revitalization and improving of stone carpets placed on house surroundings, pools, driveways, pavements, stairs, terraces and similar areas. It ensures increased protection against the UV radiation and against a mechanical aging. Varnish is applied in one layer on matured stone carpet by brush or paint roller.
Thinner: U 6051
Informative coverage rate: 2 – 3 m²/l
Drying: touch dry: max. 4 h, maturity: 24 h
Hardener: U 7081, mixing ratio 3:1, volume hardening ratio: 3:1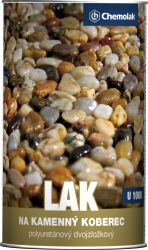 Stores
Calculate the amount
exterior
floors

brush
roller
increases the surface strength of stone carpet
has a revitalizing surface effect
increases resistance to UV radiation
increases mechanical wear resistance
Error: The color code you entered is not in the RAL / STN converter, reset the form and enter the number
Chyba: Zadajte 4-miestny kód farby RAL/STN.